---
---
guest commentator: monica
this weekend, we had the pleasure of photographing lisa and paul at bay street in emeryville. in a quieter area of this busy shopoholic's haven, we were able to take advantage of the rock and glass sculptures that pays tribute to the shellmound and the native americans who inhabited the area. having done their "homework," this dynamic duo watched the movie "hitch" to get the perfect "90% kiss" shots, brought along a couple of small props and one not-so-small prop, to ensure they would have images as beautiful and unique as these two are.
afterwards, we headed over to a tiny beach to get a glimpse of the last few rays of the setting sun, before heading out to the berkeley pier, and a parking lot, which seemed to be a type of "lover's spot" as heard by the music of silk and r.kelly blasting from a couple of parked cars.
lisa and paul were completely patient, as we tested out some creative lighting to get the perfect shot of them in paul's jaguar.
congratulations on your engagement, lisa & paul! we can't wait 'til your wedding in october!!!
//ed pingol
707.334.1468
edpingol@gmail.com
edpingol.blogspot.com
the parasol silhouette shot
snuggles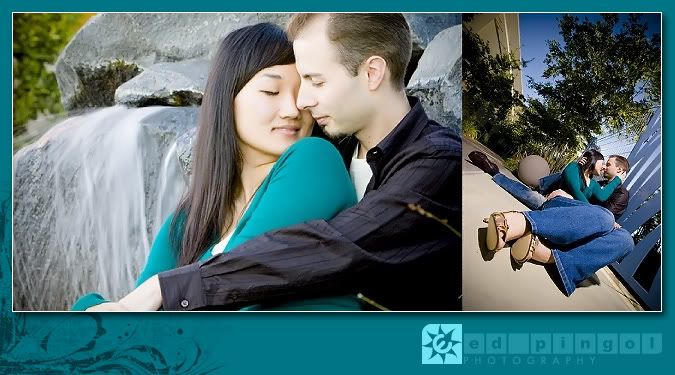 legs that go on for daaaays and lisa's fabulous shoes!

walking along, hand-in-hand

showin' off the gorgeous ring

twirling the parasol and some "peek-a-boo" shots

their wedding colors

lovers at dusk

the jag-u-ar!