guest commentator: monica
to combat the dicey weather in the city, we ended up asking the lovely couple, jen and ron, to meet us three hours earlier than planned. and boy were they troopers waking up that early after only having had a couple hours of sleep. regardless, they were just as excited and eager to shoot as we were. with a tentative itinerary, we headed to our first destination but ended up making a detour to the "little beach" just before the exit to the city. the swirl of dark clouds looming made it especially a good background, with the sun peeking out every now and then.
into the city we went to our first destination, then we detoured again, this time to the back of sf moma. and when i mean "back," i mean directly behind the building, illegally parked where trucks are unloaded and forklifts enter. 5 minutes, boom, and we're out!
we began to head to our original destination before we find a "secret" spot with an amazing set of "stairs that lead to nowhere" it seemed. jen and ron were so flexible with every unintended spot. that's what's great about san francisco... the unlimited photographer's eye candy.
here's a glimpse of some of the highlights of the day: (and because this is an engagement session with a wedding date late next year, we'll reveal the "exclusive" shots post-wedding, most likely with the wedding photos themselves). enjoy the beauty of high school sweethearts still in love! =)
//ed pingol
707.334.1468
edpingol@gmail.com
edpingol.blogspot.com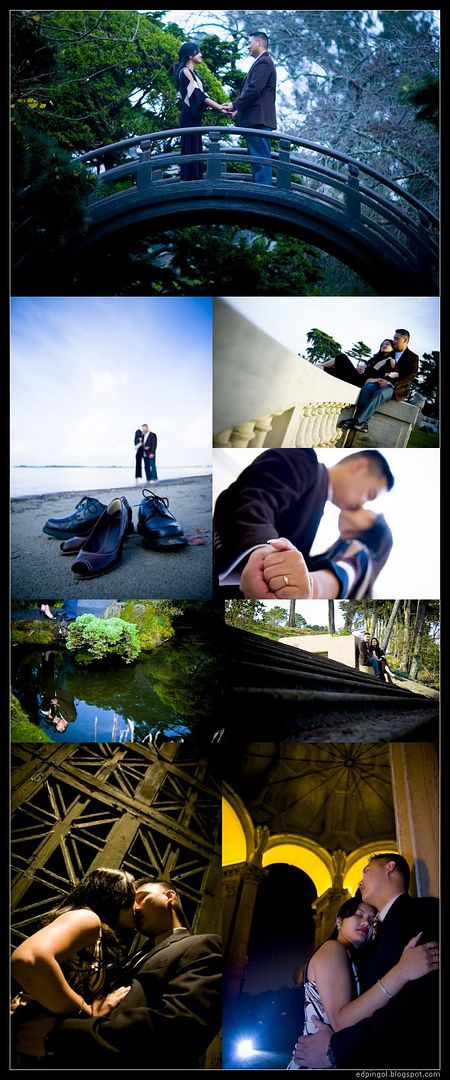 ---
---