---
---

we love our album production company, a top-of-the-line, award winning, international wedding album company, based in italy. here's some information regarding the types of album products we offer:
primary albums

- in either 9.5" x 13" (shown below) or 8" x 12." these are custom-designed and hand-bound. cover options include: metallic (featured below), "crystal glance" (acrylic cover with metallic photo insert), classic leather (die-cut, embossed, "crystal glance" insert window), leatherette, and silk

parent albums

- in either 8" x12" (shown below) or 6" x 8." these are "clones" of the primary album, hardbound with a personalized dust jacket

pocketbook albums

- 4" x 5" replicas of the primary album, softbound. super cute!
//ed pingol
contact me =)
edpingolphotography.com
below is a "group photo" of our album offerings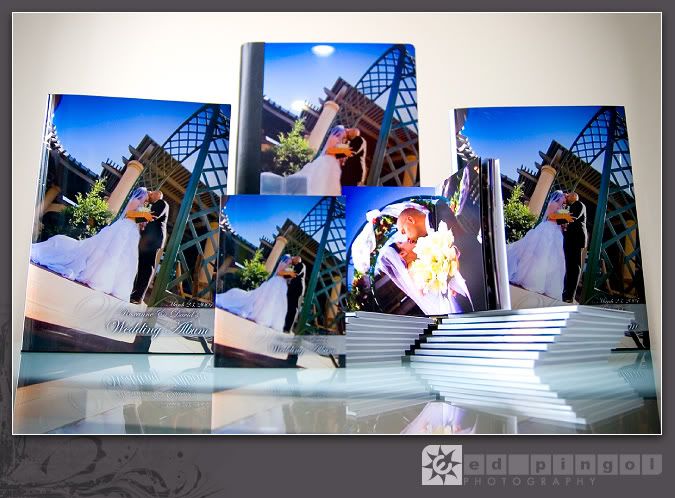 from top to bottom: opened pocket book, four pocket books, two 8" x 12" parent albums, super cool metallic 9.5" x 13" primary album and yes, a briefcase. it keeps your primary album safe and sound.

this is the very modern 9.5 x 13" "metallic" primary album standing tall in its briefcase. by metallic, we mean it has a metal cover with metallic pages. we included a generic CD in the images for size reference. seriously, pictures don't do it justice! gotta see it in person to get the full effect of its awesomeness...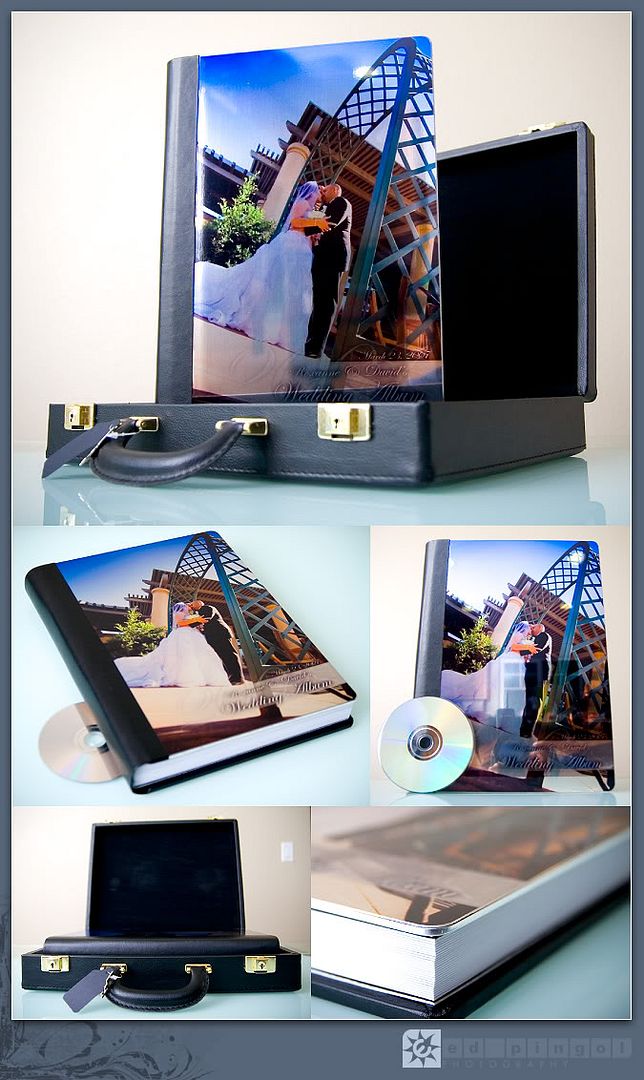 below are hardbound parent albums. most couples order two of these... one for each side of the family. all of the graphi albums (no matter what size) open flat like so.

these are 4 x 5" pocketbook albums, which can be ordered in sets of multiple copies. why order so many? these are great for giving to bridesmaids/groomsmen, grandparents, sponsors, friends, relatives, out-of-town guests, etc. they make the coolest gifts!