commentator: monica
i encourage every couple to do an aftershoot. why? because you get to don that beautiful gown again that you spent so much money on, without worrying about keeping it clean and take photos with your new spouse, in a relaxed and scenic location, without the hectic schedule of a wedding day.
jasmin & jerome who wed last month opted for this and boy, do their images scream for attention! this session was not your typical bride & groom session, as they were up for pretty much anything. they chose one of the batteries in the marin headlands as a location. (coincidentally, this is also where jasmin and i, as classmates in 5th grade, went on a 3-day class "camping" trip. but don't mention it to jerome, since he's still bitter that his class didn't get to go. yeah, we all go waaaaay back!) this is so different from the whimsical nature of their e-session location and the old plantation feel of their wedding location. this abandoned rundown place has an edgy, eery look that is quite beautiful, in it's own right. and we had an awesome sky that day to compliment the view. i recommend that couples look for something that is different than their wedding location as their aftershoot location, which adds lots of variety. and the more unconventional, the better.
congrats again to the newlyweds, jasmin & jerome!!!
:::::::::::::::::::::::::::::::
commentator dude: ed
this past weekend, we photographed jasmin and jerome's aftershoot and got some kick-butt images. for this post, i'll be posting the technicalities of the pictures for the many photographers that stalk us and ask many questions behind the scenes.
; )
you know who you are.
//ed
iso: 200
lens 10-22mm - 180th @ f/13
light source - 2 sb-28 mounted on a monopod triggered with a pocket wizard set @ 1/1 held behind bride at 24mm wide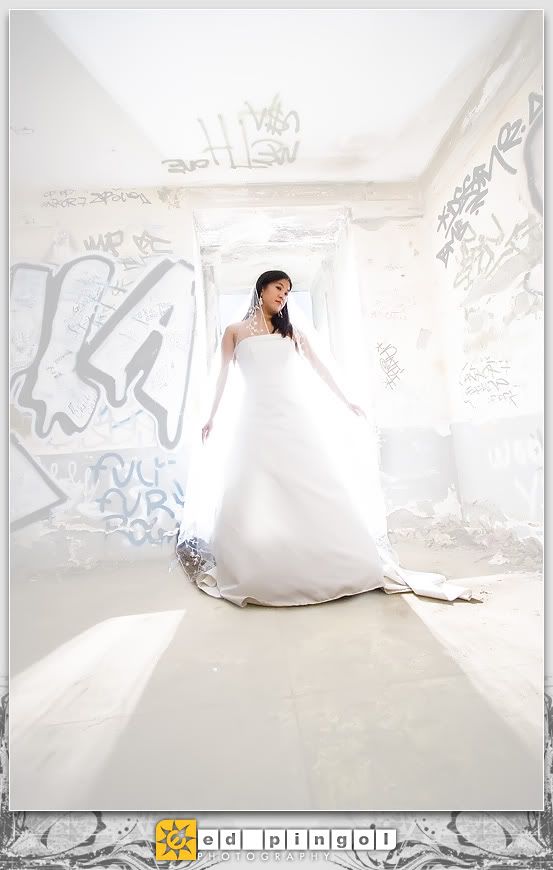 iso: 100
lens 10-22mm - 180th @ f/13
light source - 2 sb-28 mounted on a monopod triggered with a pocket wizard set @ 1/1 placed camera left @ 24mm wide
iso: 200
lens 17-55mm @ 17mm IS - 8000th @ f/2.8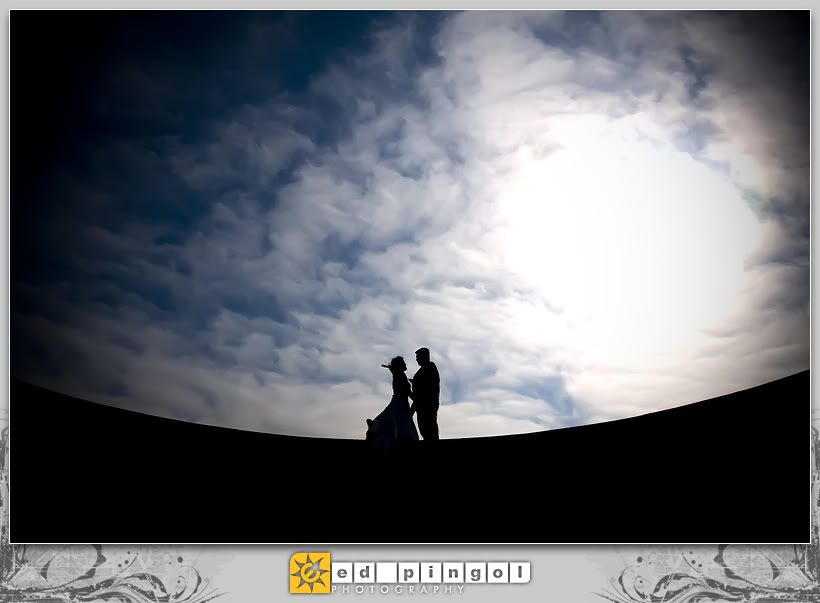 LEFT PIC: iso: 100
lens 17-55mm @ 17mm IS - 250th @ f/2.8
natural light
RIGHT PIC: iso: 100
lens 10-22mm - 180th @ f/19
light source - 2 sb-28 mounted on a monopod triggered with a pocket wizard set @ 1/1 held way up pointed down at 24mm wide

iso: 100
lens 10-22mm - 180th @ f/13
light source - 2 sb-28 mounted on a monopod triggered with a pocket wizard set @ 1/1 placed camera left @ 24mm wide

iso: 100
lens 10-22mm - 180th @ f/22
light source - 2 sb-28 mounted on a monopod triggered with a pocket wizard set @ 1/1 held way up pointed down at 24mm wide