the wedding & portrait photographers international convention and tradeshow is something i look forward to every year. granted, i've only begun attending since last year but i swear this has got to be one of the most fun experiences ever! to prepare for this year's event, monica and i did our best to get fully rested since this convention is a whirlwind of educational platform classes and speakers, awesome tradeshow booths with the newest photography equipment and related products, lots of eating, networking, and tons of sponsored parties. sleep is definitely not a priority during wppi week.
we arrived on friday the 13th for the opening night of the business institute, which was a two-day event. if you attended with us, you know the feeling of info overload. =) that saturday, we also photographed the lovely nisha & charles' engagement session on the strip, which was an awesome experience. sunday was the official start of the annual convention with the first platform classes and the welcome reception. this was also the first night of 3 consecutive nights of parties and a total of 7 parties.
for videos of our crazy week, view my facebook page here.
//ed pingol
contact me =)
edpingolphotography.com

please keep in mind that these images were shot with my 8 year old digital camera with its whooping 2 megapixel capability. LOL!!! it's my old school brick of a camera that I can't seem to let go.
AWESOME PEOPLE and AWESOME PHOTOGRAPHERS:
feel free to check out the linkies...
timco - katie pangburn - shannon hudson - erwin wijanto
dan and caroline aka tinywater

dan likes to carry women like a caveman and play nintendo wii and kick people's butts in boxing.
mark eric is the father of modern photographers. ff you're looking for photographers who have skills for your wedding or would like to be a part of them or simply just curious and looking for inspirations, check out modern photographers. it's THE BOMB!!!

this is what happens when your camera is uber old. the shutter wouldn't open... i had to manually help it a tad by tapping on the lens.
lower left photo - Lisa Richmond and friends - bay area locals (lower right) - the talented diva jen skog in the back - local fave augie chang - and wedding coordinator extraordinaire michelle barrionuevo-Mazzini

we got airbrush tattoos.

have you ever had honey toast??? OMG!!! it's SO delish.
another sweet and talented photog jillian kay with the squizzal team (upper right) - the UBER fun and always info-generous anne ruthman (lower right)

everytime we travel, food is always in the mix. now, when you mix good food with good people, there's nothing but fun times to be had. our awesome new friends and family, as well as being very talented, i introduce you to photogs michelle and andy rivera from Chicago - simply one of the best photographers in indonesia, david soong of axioo - local friend, proud father and photog, manus chau - and the always entertaining mark edgington

bottom right photo is trevor meeks from meeks digital - this dude is a hawk... he'll watch your bags and belongings concurrent to having a good time. this man is chill... =)

my hero, my inspiration, my mentor and my friend (upper right photo) -mike fulton from triCoast

we got an "award of excellence"... WOOT WOOT!!!

film photographer guru from utah and sushi buddy, jonathan canlas, speaking at the fujifilm tradeshow booth. check out his upcoming workshop (great for even the digital photogs, which i can vouch for!) in san francisco in july. can't wait!!!

upper left (admiring j. canlas' presentation) - workin' the radio popper booth (upper right and lower right) - awesome local photog and friend, maurice ramirez (lower left)

the three stooges (upper right) - we had been complaining that we didn't have a single photo of us three during this busy week so we took one in the car on the way to the tradeshow - me trying to give a fish a taste of my tasty avocado smoothie (lower right)

with leo patrone, another awesome utah-based photographer (upper left) - us with manus and fantabulous sf photog, cliff brunk (lower left) - monica, pointing at the restaurant's name on their menu: "pho kim long" (say it fast!)

a better view of the menu (upper left) - with the lovely nina, maurice's parter and business partner =) (upper right)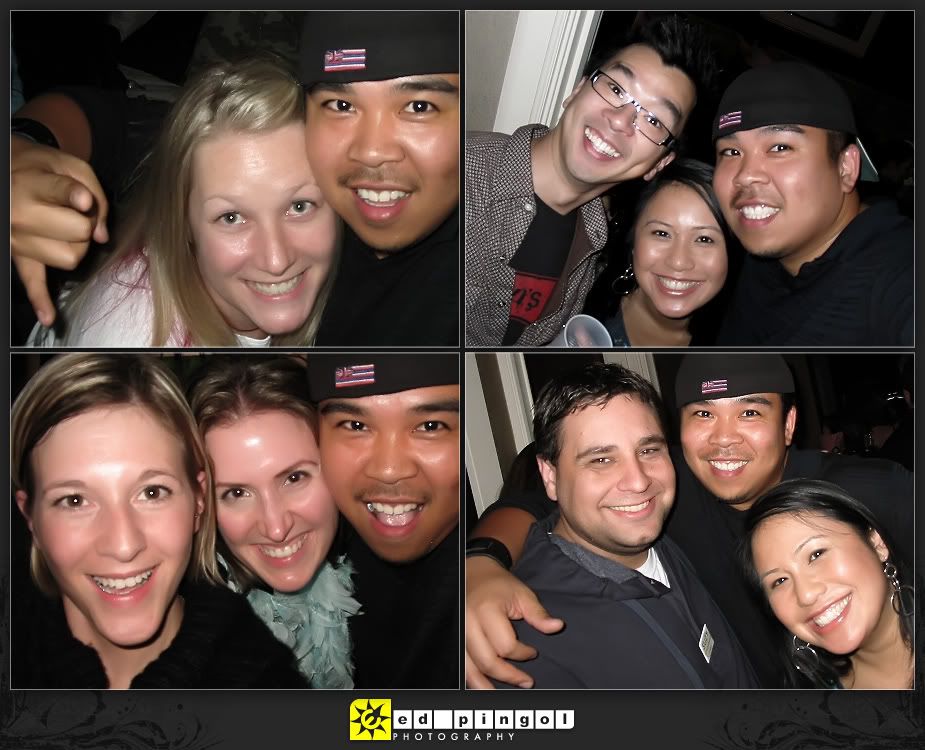 us sf folks, now including make-up/hair stylist extraordinaire maria chang of pma and another local fave photographer, ricky wong (upper left) - dominican republic born and now sf transplant photog, gustavo fernandez

caroline of tinywater has tiny hands - i mean REALLY tiny! =) (upper left) - more of our tattoo adventure at the blu soiree (bottom row)

the lovely serena grace, los-angeles based photog (right)

radio popper madness!!! kevin king (bottom middle) is the MAN!

also, don't forget to vote for us in kcra 3's a-list "photographer of the year" contest. although we're currently in the lead, the competition is getting close. please help us out by clicking on the following link or the image below: http://kcra.cityvoter.com/ed-pingol-photography/biz/78628
thank you to you all!
---
---