---
---

commentator: monica

we're currently featured on cory parris' website, the wedding photography project, a site that aims to educate wedding photographers. we won the contest he was sponsoring this summer with one of joy & john's e-session image. check out the interview from the feature below!

thank you, cory, for spreading the knowledge and helping the profession grow. and thanks for the boda bag and for featuring our work!

//ed pingol
707.334.1468
edpingol@gmail.com
edpingol.blogspot.com
---
We finished our first contest a couple months ago before I (Cory Parris for those of you that don't know who runs this little side project) got crazy busy running my own photography business. So now, finally, here is the Q&A with the fabulous Ed Pingol.
How did you become a wedding photographer?
I feel like I'm still "becoming" a wedding photographer. I started my trek into photography as a graphic design student in college. As a packaging designer right out of college, product photography became an important skill for me to learn. I got really into creative lighting and my wife and dog got sick of me shooting them at home so I decided to spread the burden to my friends at get-togethers and family functions. Eventually, I ended up meeting a wedding photographer, Carl Spears, who is awesome at lighting and he allowed me to second shoot with him. (My main priority was being able to raise the funds for the new camera gear I was drooling over.) From there, the wedding photography just took off.
What do you love about weddings?
I love how each individual wedding is different, everytime. I'm in awe of the fact that people allow us to share one of the most important days of their lives in a very intimate way. It's pretty incredible. I do enjoy the adventure of working under a deadline and having to capture all that's necessary to document a wedding day. I also love trying new cake every weekend. =)
How would you describe your style?
I think we're still developing a style. If I ever do get a definite style, I want to be able to be adaptable & creative enough to keep things fresh. At this point, I would say our work is inspired. (See question below.)
What is your shooting philosophy?
It's all about the light! I look for patterns and color. At each shoot, I want to try at least one new thing out. Anything goes!
My wife, Monica, and I work as a team. She is the lighting assistant, as well as the "new shot searcher." She is constantly looking for the next shot so that once I'm done with a shot, we're ready to set up the next location/pose. It's pretty efficient and she has the eye of a female, which helps tremendously.

What is your personality and how does that effect the way you work with the bridal couple working up to and on the day of the wedding?
I'm a goofball so I don't mind making a fool of myself. Couples will often see me demonstrating poses (flamboyantly) during shoots and realize they would definitely look better than me in those poses. It's like an ice breaker that eases the nervousness that some couples face when in front of the camera. My wife, Monica, is the organized one, who effectively works with couples and makes sure things run smoothly and all the bases are covered, from the first inquiry to the actual event and the final product delivery.

Tell me about the equipment you use?
* 2- canon 40d .
* 2- canon 30d .
* 2- canon 20d .
* canon 10-22 F/3.5-4.5 USM
* canon 17-55 F/2.8 IS USM
* canon 70-200 F/2.8 IS USM
* sigma 30mm F/1.4 HSM
* canon 50mm F/1.4 USM
* canon 100mm F/2 USM
* canon 135mm F/2 USM
* st-e2 infrared transmitter
* canon 580ex speedlite .
* canon 580ex speedlite .
* nikon SB-28 speedlight .
* nikon SB-28 speedlight .
* 32 rayovac 15 minute AA batteries for flashes, remotes and well… that's it.
* a lot of CF cards
* AlienBee B800 Flash Unit.
* AlienBee B800 Flash Unit.
* 5 Pocket Wizards.
* Monopod.

What is your favorite piece of equipment and how does it affect they way you shoot?
My pocketwizards & off-camera flashes. I have a set-up that includes 2 speedlights mounted on a flat bracket, triggered by a pocketwizard, on a monopod. This is a super portable light set-up that is very versatile. I can actually "delete" distracting backgrounds and emphasize the subject(s) when I shoot.
I have to say the Boda Bag I won from this contest really changed the way I shoot in being able to be much more efficient carrying 3 cameras, instead of two, plus the rest of my gear.
Do you have any accomplishments or association memberships I should know about? Resources where you/your work have been featured?

I won this contest, which is SWEET!!! =) Also, I've been featured on dontboxusin.com and trashthedress.com. I'm a member of WPPI, PPA, DWF, OSP, and FM.
What makes you different (and better) than your competitors?

Ha! I'm not better! I don't think about having competition, which I believe might set me apart from my competitors. (Is that oxymoronical or what!?!?) But seriously, one thing I wanted to do right from the start in this business is be an open book, network with those I respect, and share/learn new information with others. Mike Fulton of Tri-Coast Photography is the epitome of this as he has a "no secrets" philosophy, which I truly admire. He's not worried about protecting any "secret technique" and instead focuses on getting better and better. That's what I want to do. It's hard to be a good learner if you aren't willing to share what you've already learned.
Things/people that inspire you?

I'm inspired by photographers I respect and those whom I "blogstalk;" by the world of graphic design; by the media (strangely, comic books); by the surrounding environment/architecture; and most importantly, by the individuals I am shooting. Our goal is to represent the couple as who they are and what they are about.
Here are the resources that inspired me to "see the light" in photography and what I recommend to all those who ask how to get their learn on:
Strobist - lighting 101 (a must read, but don't take it all in one day cause it's a lot)
Ken Rockwell - how to get great colors
Neil Cowley - making light real
Michael Quack - DIY master
PlanetNeil - techniques for on camera flash
Dave Black - awesome awesome lighting techniques explained
DG28 - learn plenty of techniques
What do you like to do in your spare time?

What spare time!?!
But seriously, I love to shoot random things and family and friends. I love good food & drinks (especially sushi & hefeweizen). I love anything that has motors and green technology. And I like watching musicals. Yeah, I said it!
Where can people find more info about you? Online or Magazine?

http://edpingol.blogspot.com
http://myspace.com/thethinkingcouch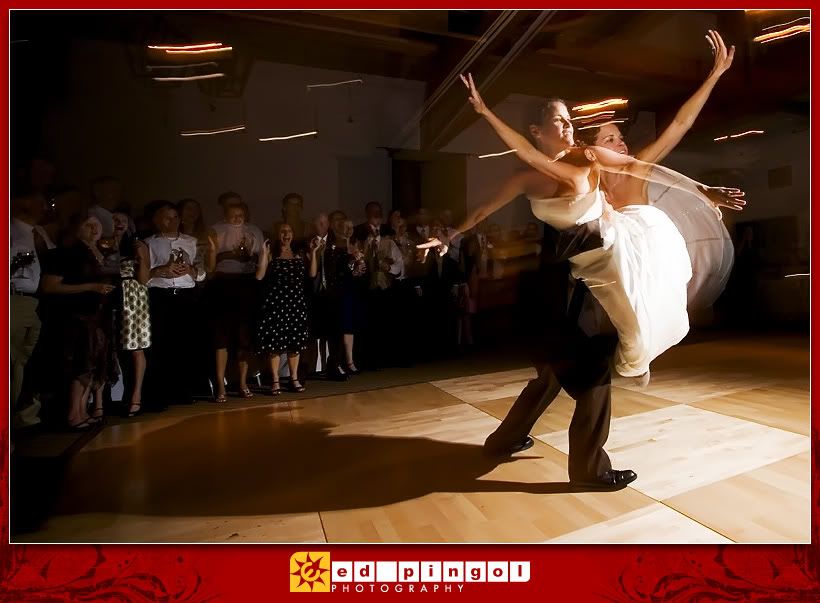 Model: Canon EOS 20D
Lens (mm): 10-22mm ISO: 800 Aperture: 8 Shutter: 1/4
sb-28 triggered by a pocket wizard set at 24mm @ 1/16th on a monopod held camera right (flash twice)
Model: Canon EOS 30D
Lens (mm): 30mm ISO: 1000 Aperture: 1.4 Shutter: 1/180
on-camera flash bounced
Model: Canon EOS 20D
Lens (mm): 10-22mm ISO: 800 Aperture: 19 Shutter: 1/180
sb-28 triggered by a pocket wizard set at 24mm @ 1/8th on a monopod held camera right
Model: Canon EOS 30D
Lens (mm): 17-55mm ISO: 100 Aperture: 13 Shutter: 1/180
sb-28 triggered by a pocket wizard set at 24mm @ 1/1th on a monopod held 5ft behind clients
Model: Canon EOS 30D
Lens (mm): 17-55mm ISO: 1000 Aperture: 9 Shutter: 1/10
st-e2 triggering 580ex held camera right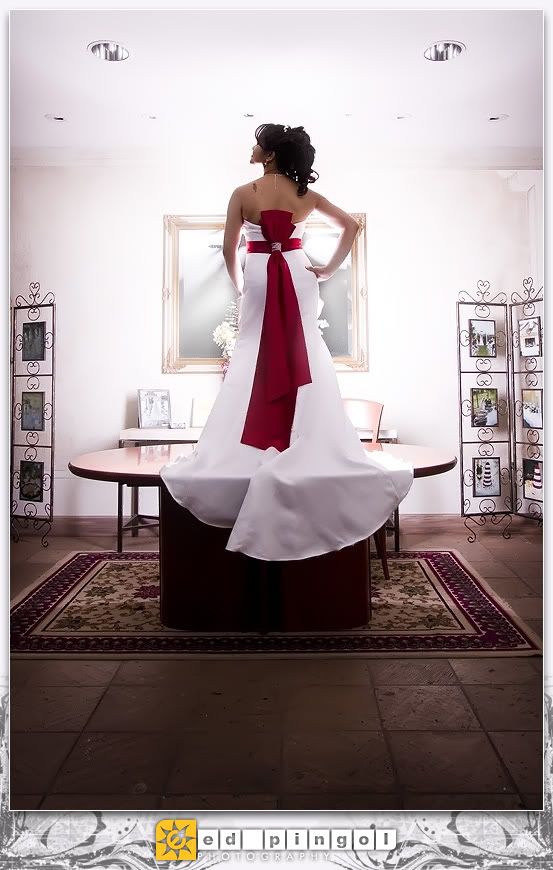 Model: Canon EOS 20D
Lens (mm): 10-22mm ISO: 800 Aperture: 13 Shutter: 1/180
sb-28 triggered by a pocket wizard set at 24mm @ 1/1th on a monopod held 5ft behind client